New Met for KHBS/KHOG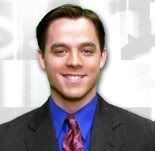 This from a tipster:

The replacement for former morning meteorologist Justin Povick at 40/29 in Fayetteville is a done deal.
His name is Patrick Crawford, and he starts August 20th...though thereare rumors he will start by filling in for Chief Meteorologist DrewMichaels before going to mornings.
Most recently Crawford was Chief Meteorologist at KSWT (CBS) in Yuma, AZ.