Voice of the Razorbacks Dies in Car Accident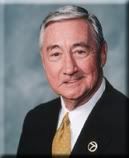 Source: KATV.com Paul Eells, the "voice of the Razorbacks" whose trademark "Touchdown, Arkansas!" call endeared him to generations of sports fans, is dead after a head-on collision on Interstate 40 at Russellville. State police said the accident last night at 8:13 pm also took the life of the other driver, Billy J. Burton of Dover.

The 70-year-old Eells had served as sports director of Little Rock television station KATV for nearly three decades and also delivered play-by-play coverage of Arkansas Razorbacks football and basketball for radio and television.

Scoring plays weren't the only events that drew a characteristic response from Eells.
Viewers or listeners perked up when they heard him utter the mild exclamation "Oh, my!" because they knew something interesting had happened on the field or the court.

A police report said Eells' car, eastbound near the Arkansas 331 exit from I-40, crossed the median and collided in the westbound lanes with a car driven by the 40-year-old Burton.

The report said she and Eells were both pronounced dead at the scene of the accident.

Eells was returning to his home at Little Rock after participating in a golf tournament for sports figures and the media at Fayetteville. KATV said he had also interviewed Arkansas Football Coach Houston Nutt during the visit to northwest Arkansas.

Eells, a West Branch, Iowa, native, joined KATV in 1978.

He was named Arkansas Sportscaster of the Year eleven times and was also honored several times with an Associated Press award for bestsports play-by-play.

A graduate of the University of Iowa, he began his broadcast career with radio station KOKX in Keokuk, Iowa, as an announcer. He then moved to WMT in Cedar Rapids, Iowa, andfrom there to WSM radio and television in Nashville, Tennessee, where he did play-by-play for Vanderbilt until coming to Arkansas in 1978.

Governor Huckabee is calling for state flags to fly at half staff on the day of Paul Eells' funeral and for prayers for Eells' family. Paul Eells was 70 years old.

A memorial service has been scheduled for Friday at 2:00 p.m. at Robinson Center Auditorium in Little Rock. It is open to the public. Paul Eells' family requests memorials be made to the Paul Eells Memorial Scholarship Fund, P.O. Box 10689, Conway, AR 72034.