Where Are They Now
Former KARK'er Mike Nicco is in the spotlight today.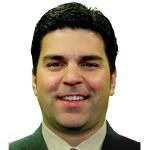 Mike is a 1992 graduate of the University of Kansas, with a degree in Atmospheric Science, Mike has climbed the "television market ladder" with career stops in Nebraska, Louisiana, Arkansas, and North Carolina.

What's he doing now? Mike is the weekend meteorologist at KMSP, FOX 9, in Eden Prairie, Minnesota.