Local Coverage of Hurricane Katrina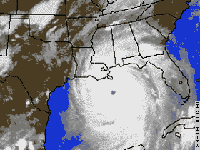 KTBS, Channel 3, always seems to devote more resources in covering hurricanes than other other station in the area and this time is not any different. Through the weekend it looks like Mark Rowlett and Jennifer Gray will man the KTBS weather center and Ed Walsh is in New Orleans and will be providing updates.
UPDATE: 8/28 KSLA, Channel 12 has sent a crew down to South Louisiana. Reporter Fred Childers broadcasted LIVE from near Baton Rouge last night on the station's 10pm newscast.
UPDATE: 5:07pm KTAL's Todd Warren and Lane Stone reported from The Big Easy via cell phone during the stations evening newscast. Stone just promised LIVE pictures in a few minutes. Meanwhile, the main focus here in the Ark-La-Tex is the influx of evacuees. Motels all across the area, including the small town in which I live, are filled.
5:18pm KTBS's Ed Walsh is broadcasting LIVE from New Orleans.
5:30pm KTAL broke away from local coverage and is now airing coverage from WDSU in New Orleans.
5:31pm Oh wow! KTAL stayed with WSDU's coverage for one whole minute. What was up with that? I guess KTAL is pre-empting NBC Nighty News for more local hurricane coverage.
6:05pm KTAL is back to regular NBC programming and has the news crawl up and a radar image of the progress of Hurricane Katrina while it resumes normal programming.
Additional: This from an e-mailer: "KARK sent their weekend meteorologist Dan Skoff to cover the hurricane. He reported live from Mandeville, LA Sunday at 10pm."