Where Are They Now
Former KSLA reporter/anchor Christy Douglas is in today's spotlight.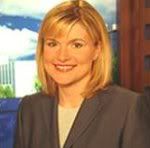 Christy has close to ten years of experience in both television and radio media. She's spent the last seven years working in television news in Shreveport.

After graduating from the University of Texas, Christy started her television career as a morning anchor at the NBC affiliate in Shreveport. She also served as weekend anchor and senior reporter during her five year stint at the CBS affiliate in Shreveport.

What's Christy doing now? She is the weekday morning anchor at WAAY in Huntsville, Alabama.