Where Are They Now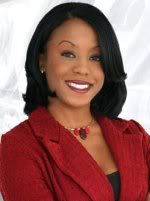 Today we feature former KTAL reporter/anchor April Simpson.
Simpson has worked at KTAL in Shreveport, Louisiana and at a station in Monroe, Louisiana.
April earned a Bachelor of Arts in Broadcast Journalism from the University of Arkansas. April is also a native of Arkansas.
What's she doing now? April is at KTVI where she co-anchors FOX 2 News at Eleven and also reports live covering breaking and daily news for FOX 2 News in the Morning. Prior to becoming the mid-day anchor, April anchored FOX 2 News Sunday Morning and was a general assignment reporter.