Where Are They Now
Now here's a familiar face. Today we feature Deborah Mathis.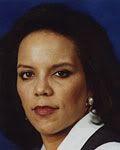 Mathis began her career as a general assignment reporter for the Arkansas Democrat. She has worked in various positions, including on-air reporter and anchor, for KTHV-TV and KATV-TV in Little Rock, Arkansas, and WTTG-TV in Washington, D.C. Between 1976 and 1981 she worked for KARK-TV, Little Rock, moving from reporter to assistant news director. In 1988, Mathis joined the Arkansas Gazette as an editorial columnist and staff writer, and in 1990 became associate editor. Mathis also worked as a columnist for The Clarion-Ledger in Jackson, Mississippi.
What is Mathis up to these days? She is a the national correspondent for Gannett News Service. A veteran political reporter, she is responsible for reporting on all national news stories dealing with the White House and the administration. A native of Little Rock Mathis currently resides in Chevy Chase, Maryland with her husband and children.