KSLA Anchor's Daughter is in London and Describes Bombing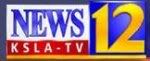 KSLA, Channel 12 anchor Carl Pendly's daughter is a college student studying this summer at a London college and described the scene in London following the bombing:
"The street that I live on is regularly fairly busy, it was completely on lock down, cops are on either side of the block noone can drive through, we weren't even alowed to stick our heads out the window"


"BBC News is back to back coverage" Pendley said. The reports focus on a city bus blown apart and the subway blasts which knocked out windows and power. But the explosion Paula heard came from a briefcase. "So they had a bomb squad come in and it was detonated about 12:15 and that's the only explosion I personally heard." The briefcase was located outside a nearby college.
ALSO Vice President of News for Raycom, News 12's

Parent Company, Eric Braun is on vacation in London and described what he experienced:
"My first awareness of what was going on was just hearing the ambulances and police cars go screaming toward Russel Square, just from the volume of sound it was a very massive response."
Read the complete report at KSLA.com.