KATV Does Some Spinning on Why Inman Wasn't Named Voice of Razorbacks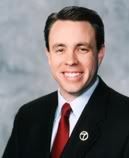 I guess seeing that he couldn't win, KATV GM Dale Nicholson pulled anchor Scott Inman's name out of the hat for being considered for The Voice of the Razorback. Look at the spin KATV puts on the situation:
In a recently conducted viewer study, KATV has learned that Scott Inman is the 'most-watched' and 'best-liked' news anchor in Arkansas. In addition, our entire news team was recognized as the local news leaders in Arkansas, said KATV President and General Manager Dale Nicholson. "After careful consideration of how our viewers can best be served, our leadership team has decided that our news anchors and reporters, including Scott Inman, should focus their energies on our primary mission of delivering the most accurate, up-to-date local news possible. Therefore, Scott is no longer a candidate for play-by-play announcer for Razorback broadcasts or coaches' shows."
Statement via Arkansas Business.com