KATV Weekend Sports Anchor Gone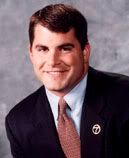 This from a tipster: "Justin Acri is the new program director @ 103.7 The Buzz in Little Rock as of next Monday."
According to his bio at KATV.com, Acri joined the KATV News Team in September 1998 as a General Assignment Reporter. He was also the ARSN Radio Broadcast Team's pre-game & post-game reporter which he began in 1999. In 2001, Justin joined the Saturday Daybreak crew as co-host and in 2003 became the Weekend Sports Anchor.