Where Are They Now
Former KATV'er Matt DeCample is featured today.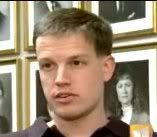 De Cample is originally from the suburbs of Seattle, Washington. He attended Washington State University, graduating summa cum laude as a phi beta kappa.

DeCample worked as a reporter for KATV, covering breaking news, politics and other Arkansas issues.

What's Matt doing now? Matt is press secretary for Arkansas Attorney General Mike Beebe.