Where Are They Now
Today Ken Pastorick is featured.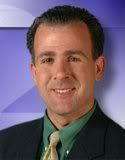 His first broadcasting experience was in 1989 as a news reporter for KOSA-TV in Odessa, Texas. From 1990 to 1992, Ken worked as a reporter at KLTV in Tyler, Texas. His broadcasting experience also includes one year as a sports anchor at KLAX-TV in Alexandria, Louisiana and Bureau Reporting at KTBS-TV in Texarkana, Arkansas.

While at KTBS, Ken won several awards from the Arkansas Associated Press. These awards include first place for Best Continuing Coverage in 1993, first place for Best Feature in 1994 and first place for Best Sports Report in 1994. In 1995, he was awarded third place for Best Sports Report and third place for Best Spot News.

What's Ken doing now? Ken is the crime and courts reporter at WBRZ in Baton Rouge. He has been with the station since 1995.