Newest KARK'er's Bio Up
The bio of KARK reporter Pete Thompson has been posted on the station's website.
Here's what it says: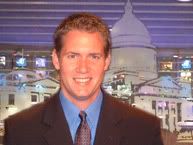 Pete Thompson recently joined the KARK news team in Little Rock in July of 2005. With a life-long passion for storytelling, he is excited to report on this historic southern city with its rich tradition.
Pete began his career at KXII Channel 12 News in Sherman, Texas where he worked as a reporter and fill-in anchor. After a two-year stint there, he moved on to KJRH-Channel 2 News in Tulsa, Oklahoma where he covered numerous crime stories.

Pete originally hails from Dallas, Texas. He graduated from the University of Texas at Austin in 2001 with degrees in communications and liberal arts. In 2000, he spent a summer studying abroad in Oxford, which inspired him to write and direct a play during his senior year. Pete spends much of his free time now playing guitar, and he is currently recording an album.

With a wide variety of interests ranging from current events to world history, Pete is right at home in broadcast news. Thrilled to be in Little Rock, he looks forward to meeting his fellow Arkansans.