Where Are They Now
Lori Wilson is in today's 'Where are they now' spotlight.

Born in Columbus, Indiana and raised in Indianapolis, Wilson was bit by the T.V. bug while playing a cute kid in commercials. In high school she spent her evenings and weekends at YTW (Youth Telecommunications Workshop) with a group of teenagers who produced, directed, wrote, and hosted their own show on public access television.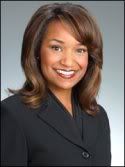 At Indiana University in Bloomington, she anchored the college news and interned at several television stations, including a CBS affiliate. After her success in Illinois, she anchored the morning and noon show for KSLA (CBS) in Shreveport, Louisiana and worked as a reporter for WCIA, the CBS affiliate in Champaign, Illinois.
What's she doing now? Lori currently anchors the weekend newscasts and reports during the week at WGCL-TV in Atlanta. Wilson joined the CBS 46 news team in October 2002.