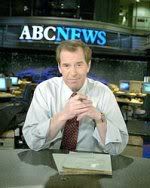 This from Newsblues:
LATE BREAKING ABC alerts affiliates to prepare for the death of Peter Jennings.
UPDATE: 08/07 Newsblues has posted this additional info:
NewsBlues has confirmed that several ABC general managers were contacted by telephone Saturday evening and advised to prepare for the imminent death of Peter Jennings.

One GM was contacted at 6 p.m. and told to "expect an announcement within 24 hours." A second GM confirmed receiving a similar call.


A spokesperson for ABC says the NewsBlues report "is not accurate."
And SOME has been added to the headline.
UPDATE: 12:15pm CT ATN stumbled upon this little tidbit on the web: "ABC News has scheduled a presser at 2PM Eastern, Sunday."