New Anchor At KTAL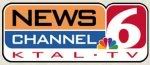 KTAL has a new anchor on the air. Kimberly Williams anchored today's 5pm newscast. Could Kimberly be the new weekend anchor?
ALSO wanted to make note, it looks as though KTAL has added a scrolling news ticker at the bottom of the screen during its newscasts. I can only ask WHY?
UPDATE: Kimberly is anchoring the 6pm newscast as well.
UPDATE: 8:18pm Williams has confirmed to ATN she is the new weekend anchor/reporter for KTAL. Williams tells ATN she comes to KTAL from WKMG in Orlando, Florida.