KNWA's Bo Mattingly to Host Daily Hog Feature on KARK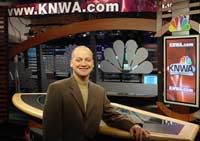 Just saw a promo on KARK promoting the station's 'Razorback Nation' feature set to begin Monday. The promo said Bo Mattingly with KARK's sister station KNWA in Fayetteville will be hosting the feature during the 6 and 10 newscasts. If I heard the promo right, it would be on a daily basis. I know Mattingly is not new on the air at KARK. I wonder if this might be apart of the reorganization of the sports department that we have heard about the last month or two.
Also worth mentioning: Noticed KARK now begins its 5pm newscast a minute or two before any other Little Rock station. Not sure if this is something new, just something I noticed today. I know in the past KATV has usually been the first Little Rock station to begin its newscast a few minutes before anyone else.
NOTE: Just visited the KNWA website and they already have a 'Razorback Nation' section already up and going. I wonder if KARK's 'Razoback Nation' will be just a duplicate of KNWA's?