Former Ark-La-Tex Anchor/Reporter Makes Name for Self Up North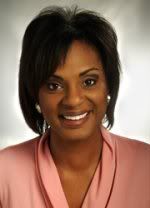 Source:
The Plain Dealer
Stacey Bell is quickly becoming a marquee name in Cleveland TV news. Since arriving at Fox affiliate WJW Channel 8 in 1998 -- the first time she'd moved outside the South -- she has worked her way up to co-anchor of the 5 and 10 p.m. newscasts, developing a successful on-air style that viewers enjoy. Between newscasts, she answered a few questions from PDQ's John Campanelli.

You're from Arkansas, and before you came to Cleveland, you worked in Texas and Louisiana. Where's your Southern accent?

Oh, I have it. I can disguise it. When I am around people who are from Arkansas or I get really comfortable, it comes out.

Read complete interview
HERE.
Stacey was a news anchor for KSLA-TV in Shreveport, Louisiana, for two years. Bell also served as a news reporter for KTBS-TV in Shreveport from 1994-96. She was a news anchor for KTAL-TV in Texarkana, Texas, from 1992-94.