Where Are They Now
Julie Mayberry is our focus today.

Julie co-hosted KATV's DayBreak, the top-rated morning show in Arkansas from 1996 to 2001, along with Matt Mosler.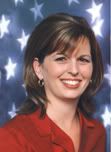 What's she doing now? Julie is a television spokesperson for the Frank Fletcher group of companies in Arkansas and Terry's Furniture chain in Texas. She is often asked to speak at churches, schools and civic organizations. In addition to The Spirit, since 2000, the couple also published The East Ender, a monthly newspaper for the community of 5,600 in which they live.