Coverage of the Big Fight: LR Stations Barely Cover Outcome
Kudos to KTHV as it was the ONLY Little Rock TV station to update its website with the news Jermain Taylor is the new Middleweight Champion Of The World. KARK's and KATV's website was not updated with the news. I was for certain the Little Rock stations would have even announced the news on the air with at the very least a crawl at the bottom of the screen. Looks like they will wait and report it as history later today.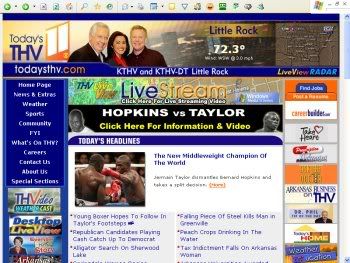 UPDATE: 07/17 11:45am
As of this posting KATV.com has
an AP story
on the fight and KARK.com is still running the pre-fight story.