KTAL Gets New Trouble Shooter
KTAL, News Channel 6 has hired a new "Trouble Shooter". According to promos currently airing, Alexis Wiley has joined the KTAL crew in the capacity that was held by Rich DeMuro. According to KTAL's bio page Demuro is now an anchor.
UPDATE: A producer at KTAL tells ATN, " Rich Demuro has moved to Los Angeles to work for Channel One. It was a longtime goal of his....quite an accomplishment."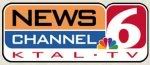 ALSO the producer provided ATN with a little background info on Alexis Wiley: " Alexis comes to us from Northwestern University of Evanston/Chicago. She did work with a couple television stations in that market."