Where Are They Now
Today we feature Bob Stokes

As a youth, Bob became interested in weather while watching the weathercasts on Little Rock television. He graduated from the University of Arkansas at Little Rock with a B.A. in Radio, Television and Film, and holds a Certificate of Broadcast Meteorology from Mississippi State University.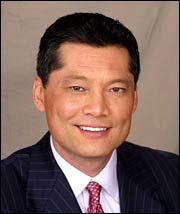 Bob began his weathercaster career at KFSM-TV in Fort Smith, Arkansas. Afterwards, he joined KARK-TV in Little Rock. The next step in his career was Monterey, California, after which, Bob worked as the outdoor weathercaster for WROC-TV in Rochester, New York. Moving Southward, he joined WTVF-TV in Nashville, and worked for WREG-TV in Memphis, Tennessee.

What's Bob doing now? Bob has been an On-Camera Meteorologist with The Weather Channel since June 1996.