Where Are They Now

Today we get back to the meteorologist theme and feature Janine Albert.
Of course most TV viewers know her as Janine D'adamo. Janine studied Broadcasting and Meteorology at the University of Florida and Mississippi State University. She holds the Television Seal of Approval from both the American Meteorological Society and the Nation Weather Association.
Janine has forecast the weather at WCBS in NYC, and for stations in Dallas, Shreveport (KTBS) and Hattiesburg, FL. She is most known for her stint at The Weather Channel.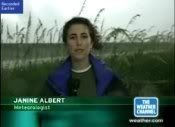 What's Janine doing now? She is a "met" for WINK in Ft. Myers, Floria. Janine still does special reports for The Weather Channel when hurricanes blow through.