Dancin' The Morning Away on Daybreak
Alright I don't think anyone could have made this one up BUT I just saw a promo on KATV promoting beginning next week on Daybreak a dancing contest will begin. Apparently several different couples will be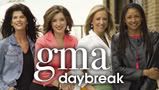 dancing the morning away every morning next week. Then everyday viewers will be able to go online and vote for their favorite. THEN on Friday a championship dance off will be held between the daily winners.
A dance contest at five o'clock in the morning, on LIVE TV.........What else are they gonna subject the viewers they have left too before they totally drive them all away? Oh well, we'll see how it goes. Just for the heck of it I'll record it on Monday and see what it is all about.
UPDATE: Ok, KATV is playing the heck out of the Dancin' on Daybreak promo during tonight's Everybody Loves Raymond, and it seems 5 couples will start out dancing on Monday and each day one couple will be eliminated leaving one couple standing on Friday.