Where Are They Now
Well today we feature another former "met" from KARK. Today it's Mark Dixon.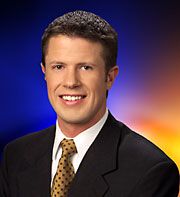 He began his career on-air at the same station that he toured and interned: KJRH, Tulsa, OK, while still in college.

In April of 2001, Mark moved on to Little Rock, Arkansas where he won an Associated Press award for "Best Weather Segment" and was highly involved in the local weathernet. His experience with the severity of "Tornado Alley" has provided him with extensive knowledge to handle the extremes of all types of weather.

What's Mark doing now? Mark can be seen weekend evenings as well as during the week at Noon and 5:30 p.m., Monday through Wednesday on WFSB in Hartford, CT.