Where Are They Now
Ben Mohr is in the spotlight today.
Ben began his career in journalism in Yakima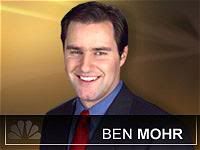 Washington, as a weekend anchor at KVEW-TV. His next stop was at Little Rock, Arkansas where he worked at KARK-TV. Then it was off to KMPH in Fresno and KVBC in Las Vegas.
What's Ben doing now? Ben Mohr is the news reporter for the 11 p.m. newscasts at NBC 11 serving San Jose, Oakland and San Francisco.