Where Are They Now
Leeza Glazier is in the spotlight today.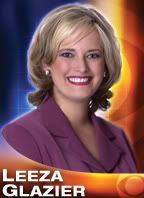 Leeza worked at KTAL in Shreveport, Louisiana and KLAX Alexandria, Louisiana. Leeza is a 1999 graduate of the E.W. Scripps School of Journalism at Ohio University, where she worked at WOUB-TV and Radio.

What is Leeza doing now? She is a producer for WOWK, serving Charleston and Huntington, West Virginia.