Kate Sullivan Profiled
Source: Arkansas Times Kate Sullivan has come a long way from the new-on-the-job general assignment reporter at KATV, Channel 7, who on an early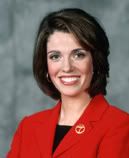 as-signment spent a month cooped up in an apartment with only the Internet to take care of all her necessities. Five years later, she's anchoring KATV's news at 5 and 6 p.m., and Times readers rate her the state's best TV news person.

Also in that short time, she's now just behind KTHV's Anne Jansen as the grand dame among female anchors in the Central Arkansas mar-ket in terms of tenure.

"That assignment, the e-partment, helped people get to know me," Sullivan recalled "People still come up to me in the drugstore and say, 'We've watched you grow up here in Arkansas.' People really connected and have followed my career."

The native of Lakeville, Mass., about 40 miles south of Boston, says she's comfortable calling Arkansas home. She may not sound like an Arkie, but her accent is a far cry from what it was before Arkansans first got to know her.

"I sounded like Pat Bradley," she said, referring to the Massachusetts native who starred as a Razorback basketball player for four years. "No one would want to hear Pat Bradley do the news."

"And I love Pat Bradley," she makes sure to add, in a way that people around her have found is her nature.

"She has the nicest smile I've ever seen and is genuinely a nice person," says Bob Steel, a public relations executive and the former KATV news director who hired her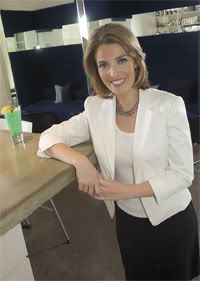 away from a South Bend, Ind., station where she worked for two years after graduating magna cum laude from the University of Notre Dame.

Today, as Steel says, "her voice has got a real news sound to it." And, he adds, "She's pretty steady under fire. I've been impressed with her live reporting, the ability to ad-lib, such as at the grand opening of the Clinton Library, which I thought was her best live event yet."

As a general assignment reporter, she covered everything from tornadoes to explosions to election nights. Now, she blends her anchor duties with other "franchise" reporting that airs three nights a week at 10 p.m. — the "Amazing Arkansas Woman" series, a financial segment called "It's Your Money," and "Crimestoppers."

"I never really came into it thinking I'd be an anchor," Sullivan said. "I just loved what I did and gradually got promoted. I guess that's how everyone gets there. I've paid my dues. That's the fun of the job, reporting and being out there and telling the stories. It just adds to being able to anchor."

Steel said Sullivan's credentials when she arrived were that she "was very bright and a very good writer. She had an exuberance about her reporting and an excellent way of telling a story. I enjoyed watching her stories on her resume reel. In one, in her standup close, there was a story about fishing and she was holding a giant mackerel. I thought, any woman who can hold a fish is going to fit in in Arkansas."

TV viewers seem to agree.