Today's THV.com Getting Facelift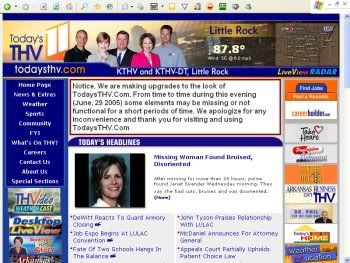 Well it seems KTHV is not only getting a new studio set BUT Today's THV.com is getting a facelift. This notice has been put up on it's website:
Notice. We are making upgrades to the look of TodaysTHV.Com. From time to time during this evening (June, 29 2005) some elements may be missing or not functional for a short periods of time. We apologize for any inconvenience and thank you for visiting and using TodaysTHV.Com.
THV GM Larry Audas told Arkansas Business.com Monday the new set will probably be rolled out tomorrow!
Thanks to David for the tip!!
UPDATE: New graphics surfaced on THV at 10 Wednesday night. ALSO the message on the website has dissappeared so I guess the major change was the new top anchor banner. Was anyone else besides me expecting a major overhaul?