'Best of Arkansas' Announced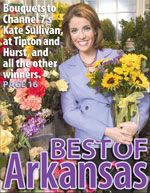 The Arkansas Times has announced the 2005 Best of Arkansas winners. There is a category for just about everything you can imagine. Below are the winners in the media categories:

TV STATION
KATV, Channel 7
RUNNERS-UP: KARK, KTHV, Fox 16.


TV NEWS
Kate Sullivan
RUNNERS-UP: Scott Inman, Andy Pearson, Pamela Smith.

TV WEATHER
Ed Buckner
RUNNERS-UP:Barry Brandt, Tom Brannon, Ned Perme.

TV SPORTS
Craig O'Neill
RUNNERS-UP: Paul Eells, Steve Sullivan.