JT Rally Coverage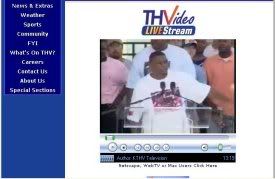 KTHV and KARK carried the rally LIVE. KATV stuck with All My Children. Now the question is, will KTHV and KARK break away for soap operas?

UPDATE: 12:25pm Hey look at that, KATV interrupted AMC for part of the rally. I bet AMC fans are flooding the phone lines at KATV.

UPDATE: 12:31pm KTHV and KARK sticks with rally coverage. KATV still carrying the ceremony also.
UPDATE: 12:41pm KARK was the first to breakaway and go to Days of our Lives, in progress. KATV and KTHV were moments behind in breaking away back to soap operas.
Additional:12:45pm The KTHV webcast continues anchored by Craig O'Neill. O'Neill is going behind the scenes and getting interviews with JT and others.
UPDATE: 12:48pm The Today's THV.com webcast has wrapped up.