Got 7? KATV Hocks Merchandise Online
KATV is now in the online shopping game with it's 'Got 7?' online store. According to the site, " Shirts, hats, and other special Channel 7 merchandise will be available only at this site. Items will change out periodically, so you will want to check back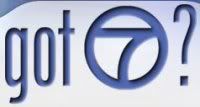 here often to get the latest KATV Schwag! ShopKATV.com orders are fulfilled by Wild Wear in Little Rock, AR."
From what I can tell all merchandise is priced at $13.99 EXCEPT the ""got 7?" Twill Crusher hat" priced at $13.95 and the "Basic White "KATV 7" Tee" value priced at $7.77.
Geez, I kinda feel like I need a complimentary t-shirt for providing KATV with this little write-up. How bout it?