New Shreveport Mayor Picks KTBS Anchor as New Assistant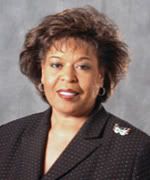 Source:
The Shreveport Times
The anchor's desk at KTBS is becoming quite the pipeline into the Mayor's 200 suite at Government Plaza.

Gwen Campbell, who has worked at Channel 3 for the past 26 years, has been hired to handle community and media relations for new Shreveport Mayor Cedric Glover.


Campbell will apparently follow the course of her predecessor Liz Swaine, who left KTBS in 1998 to become an executive assistant for former Mayor Keith Hightower.

"We're very excited about her," said Dale Sibley, chief executive assistant to Glover. "She has a wealth of knowledge about the local media. Her experience, knowledge and credibility will serve us very well."

Campbell will start in her new role Monday, Sibley said.

Since coming to KTBS in 1980, Campbell has worked in a variety of on-air roles. Most recently, she covered education and anchored the 6 p.m. newscast for KTBS and was an anchor for the 9 p.m. newscast on UPN, Channel 21.

Campbell attended high school in England, graduated from the University of Arizona and spent the early years of her journalism career in radio news.