KNWA Hires New Razorback Nation Anchor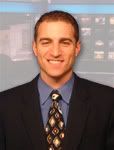 Source: KNWA Press Release KNWA-TV announced the hiring of Jesse Abdenour today as its newest member of the Razorback Nation Team. He replaces Matt Turner, who was recently promoted to the news desk. The announcement was made by Blake Russell, Vice President and General Manager of the television station.

"Jesse has a huge passion for sports," said Mr. Russell. "He's also very interested in moving to an area and to a television station that put such a large emphasis on the Razorbacks as we do."

"Before coming to Arkansas for the interview, I didn't know very much at all about the area," said Mr. Abdenour. "But when I got here and they showed me the university, Dickson Street, Pinnacle Hills and the rest of Northwest Arkansas, I knew people here have something going. And then when I saw how many resources KNWA puts into covering the Razorbacks, I knew, this was the job for me."

"We looked long and hard to find the right person for this unique opportunity," said Bo Mattingly, Sports Director at KNWA. "After spending time with Jesse, we knew he was the guy that would help us keep delivering consistent excellence day in and day out."

Mr. Abdenour will also anchor sports for KARK-TV in Little Rock.

He comes to NWA from Rockford, IL where he's Sports Director at WREX-TV. He's also worked at stations in Columbus, OH, Moline, IL and Rochester, MN. He's originally from Seattle and graduated from Ohio University. When he's not working, Mr. Abdenour says he likes play tennis, golf and baseball. He's also a video game fan as well as a Seinfeld rerun watcher. Most importantly, he's a sports fan. "I like sports and I like to talk about sports, so [working in sports broadcasting] it's a good fit."