Where Are They Now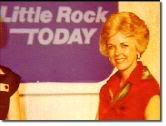 Today we feature Beth Ward.

Bob Brown, former owner and general manager of Today's THV, was manager of KARK back in 1968 when Beth first came to Little Rock from Virginia. She eventually became Tom Bonner's partner for the noon program 'Dailing for Dollars'.
Beth left KARK in 1986 and headed to Today's THV to host her own talk show. Her first shows featured many local radio and TV celebrities she had admired through her early years in television.
Then, when satellite technology arrived, it gave her the chance to expand her interviews to nationally and internationally known celebrities. As news became even more of a focus for KTHV, B.J. Sams was added to the mix, with Beth doing weather.
Earlier this year Beth retired after some 37 years on Arkansas tv.
What's she doing now? According to an article on Todaysthv.com Beth is waiting tables at her daughter's new restaurant in Conway.