Then There Were Three Hosts for Daybreak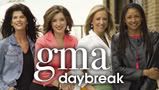 Well it took just over 5 months for KATV execs to wise up that the all female format of Daybreak wasn't cutting it. Effective today Shareese Kondo and Nicole Capri are gone from the once top morning program in Arkansas. Left are Melinda Mayo, Beth Hunt and Jason Harper. And another sign the great experiment is over, the Daybreak intro has been changed.
The new version of Daybreak originally debuted as gma Daybreak on April 18,2005. Steve Powell and Julia Grayson were booted from the program at that time. Powell still hosts Good Morning Arkansas at 9am weekdays while Grayson is no longer at the station.

A look back:

April 8, 2005:
KATV ND: New AM Program Won't be Local "The View"
May 16, 2005:
Koon: gma/Daybreak "Tends to Grow on You"
June 21, 2005 Ratings Not Good for New Daybreak
Additional: The Arkansas Democrat-Gazette picked up on the change as well and has this little tid-bit in its Paper Trails column:

"Looks like KATV-Channel 7's morning show, Daybreak, may be getting revamped yet again.


The last makeover was in April, when current KATV employees Beth Hunt and Melinda Mayo were joined by TV newbies Nicole Capri and Shareese Kondo to create a chick clique similar to ABC's national show, The View.

Then-current Daybreak hosts Julia Grayson, Steve Powell and Jason Harper were bumped to make way for the new quartet.

But last Friday was Kondo's last day on the air. She was told "it wasn't working out."

No word yet on the fate of Capri or KATV vets Mayo and Hunt; news director Randy Dixon hadn't returned calls from Paper Trails by press time."