UPDATED: KTHV Gets New On Air Talent
This from the Bull Whiz Newsletter: "KTHV has hired Sherryl Lackey as a new on-air talent to work with B. J. Sams. Watch for her to be on the air in October."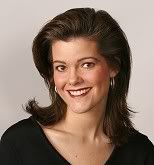 Could the BullWhiz tipster have made a typo and meant Sheryl Lackey from WB 42 in Little Rock?
Update: 9:15pm KTHV GM Larry Audas confirms the hire to ATN: "Indeed Today's THV has hired Sheryl Lackey, formerly with WB 42 in Little Rock. BJ Sams will continue to anchor the news at noon while Tom Brannon and Becky Ditchfield bring us up to date with the latest weather. Sheryl will follow with community events, happenings and matters of interest to noon hour viewers."