Peters Named Lead Anchor for Razorback Nation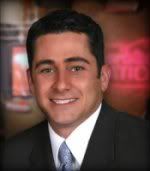 Source:

KARK/KNWA News Release

KNWA-TV and KARK-TV today announced the appointment of Aaron Peters to lead the charge in the main anchor chair for both market's Razorback Nation nightly reports and is promoting Jason Carroll to Executive Sports Producer. The announcement was made by Blake Russell, KNWA-TV Vice President and General Manager, and Rick Rogala, Vice President and General Manager of KARK-TV.

"We are very excited to make this announcement today," said Mr. Russell. "Aaron has spent many years on the hill in Fayetteville and he's the perfect person to take the Razorback Nation franchise to the next level. Jason's organization skills and knowledge of Arkansas Athletics is critical to what we do day in and day out."

Rick Rogala, Vice President and General Manager for KARK-TV commented, "Aaron is a terrific sports journalist with an incredible thirst for the hogs. He's perfectly suited to lead our Razorback nation coverage, which others may try to copy, but no one can even come close to matching because our commitment to The Arkansas Razorbacks is 365 days a year, not just a week at a time."

Aaron spent 5 years at KHBS/KHOG in Fayetteville before joining the Razorback Nation team in 2005. He was charged with heading up the sports anchor chair for the New Fox 24 News at 9 in August 2006. "First of all, this is an incredible opportunity for me," commented Mr. Peters. "With the daily exposure we deliver from the hill throughout the state, this is a dream job come true for me. How much more exciting can something be!" Jason Carroll has been a Sports Producer with The Razorback Nation since 2004. He's a graduate of Springdale High School and The University of Arkansas. Jason has worked in the Northwest Arkansas Television market since 1999. "In working on the hill for the past 8 years, I know what a Hog fan expects. It's my job to make sure we deliver," commented Mr. Carroll.