Eells and Former Paper Sports Editor To Be Inducted Into Arkansas Sports Hall of Fame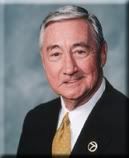 Source: Associated Press Former Arkansas Gazette sports editor Orville Henry and former broadcaster Paul Eells will be the first two members of the newly formed Arkansas Sportscasters and Sportswriters Hall of Fame.

The pair will be inducted posthumously at a ceremony in August. Their selection was announced last night after media outlets and members of the Arkansas Sports Club cast their ballots.

Henry covered sports for the Gazette, the Arkansas Gazette and what is now Stephens Media Group.

Eells, who died in a car wreck last summer, was the long-time voice of the Razorbacks.