KTAL Back on Cable One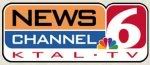 Source: Texarkana Gazette A 350-day standoff ended Friday as Cable One and Nexstar Broadcasting signed a multiyear retransmission agreement, bringing KTAL NewsChannel 6 back to the cable lineups of 21,000 cable TV subscribers in Texarkana.

"We reached an agreement in principle ... exchanged a couple contract drafts and literally got it done about an hour ago as far as signatures and everything," Duane Lammers, Nexstar's chief operating officer, said mid-afternoon Friday.

As he spoke, KTAL was being placed back on the air for local subscribers. KTAL had its local cable TV plug pulled at the beginning of the year when Nexstar, the parent company of KTAL, and Cable One failed to reach an agreement.

"There hadn't been any contract from February until a couple weeks ago," Lammers said.

Jay Butler, Cable One's Texarkana general manager, said the company was pleased an agreement was reached.

"We're very pleased that the companies have reached agreement and pleased to have the NBC programming back on the cable system," Butler said.

The agreement also brings Nexstar Broadcasting stations back to Cable One in other markets, including Joplin, Mo., and Amarillo, Texas, Lammers said. MORE