Where Are They Now

We feature former KATV anchor/reporter Suzette Chaires today.

Suzette began her career at KRGV in Rio Grande Valley in 1984. She worked at KATV from February 1986 to January 1988. She left KATV for KTVT in Dallas, TX. She has also worked at Law Enforcement Television Network, Automotive Satelitte Television Network, Fire and Emergency Television Network and the Health and Science Television Network in Dallas between June 1989 to March 1994.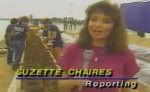 What's she doing now? She is co-host of the Radio Xavier Live program on KSKY radio in Dallas, Texas.