Where Are They Now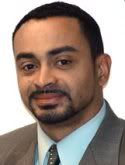 Today f
ormer KATV reporter Norris Deajon is in the spotlight.

Norris grew up in the Houston, Texas area and graduated from the University of Texas at Austin with a bachelor's degree in Broadcast Journalism.

Norris' broadcast career began in 1990 at KBMT TV in Beaumont, Texas. He was a producer and reporter, covering mainly police and courts. He was the first person to win the Best Spot or General News Story award from the Press Club of Southeast Texas. In 1994, Norris became reporter for KATV in Little Rock, Arkansas. While there, he specialized in politics, covering the State Capitol and various presidential scandals. Norris was awarded Best Spot News Story twice from the Arkansas Associated Press Broadcasters, and was nominated for an Emmy award for his coverage of a swamp rescue.

In 1998, Norris accepted a job with WPEC TV in West Palm Beach, Florida. He covered news in the northern part of the market where WPEC continued to be rated number one.
What's he doing now? Norris can be seen reporting for KDAF, WB33 in Dallas, Texas on both weeknights and weekends.