Where Are They Now
Mike Hellgren is featured today.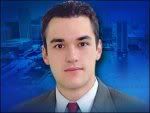 Mike worked as a general assignment reporter at KARK and as a reporter/fill-in anchor at KTAL in Shreveport, LA. He also worked as a reporter/producer/photographer for KLAX-TV, an ABC station in Alexandria, LA and started his career in broadcast journalism with a cable news program called First Edition News in Kenosha, Wisconsin.

What's he doing now? After leaving KARK in the spring of 2003, Mike found a home at WJZ in Baltimore, Maryland.