KTAL Comes Under Fire From School District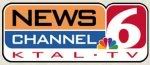 Source: KTAL.com KTAL, NewsChannel 6 came under fire from the Texarkana Independent School District for in other words sensationalizing and creating a story out of nothing.

KTAL ran a story about how a new principal at Dunbar Elementary School in Texarkana took the teachers on a scavenger hunt "to help teachers better understand the kids they would be teaching." And when KTAL asked for a response from the TISD, they had this to say:
"Texarkana ISD finds it unfortunate that KTAL has chosen to create a story in an effort to sensationalize and misrepresent the positive intentions of a group of educators attempting to better understand the children and the community they serve.
It is always with regret that we see members of the media and their leadership ignore the abundance of positive stories that are available on a daily basis that could highlight the successes of our children and the committed educators that serve them.
KTAL`s actions and choices surrounding this attempt to attract more viewers only reinforces our outstanding partnership with Cable One."
That message was presented by District Spokesperson Barbara Lewis.
Read the complete story HERE.