Where Are They Now
Recognize the person in the picture? Yes it's Karen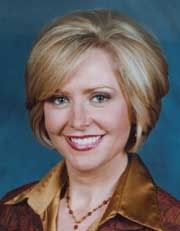 Fuller, a fixture for a number of years at KATV.
A native of Jonesboro, Arkansas, Karen earned her Bachelor of Arts in Radio/Television from Drake University, located in Des Moines, Iowa. She began her career as a weekend anchor for KIMT-TV in Mason City, Iowa and was quickly promoted to weekday morning and noon anchor. Fuller then moved to Arkansas in 1994 and was an anchor and reporter for KATV.
What's Karen doing now? After leaving KATV in October 2003 she is co-anchor of the evening newscasts at KCTV5 in Kansas City.