Q and A with Jancey Sheats
This is the first of what I hope will be several in a series of Q and A's with the folks that anchor and report the news in the Little Rock and Shreveport markets.
I thought I would kick things kicked off with one of the newest faces on Arkansas TV. I thank Jancey for taking a few minutes out of her busy schedule to answer a few questions for ATN.
<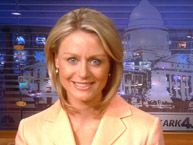 The Little Rock market was a big step up for your career, what kind of challenges do you face here versus the other markets you have worked in?

Anytime you move to a new market there is always the challenge of connecting with viewers and being accepted in the community. This is especially hard when you are replacing an anchor that has been a fixture in the market for years. As I have in the past - I dove in head first here in Little Rock. I always just try to be myself and try to realize you can't please everyone.

< What do you like to do in your free time?

I am the "Queen" of travel - always looking for new and exciting places to explore. I am an avid runner and try to hit the gym at least three days a week. (It's more of a stress reliever than for health reasons.) I also love to read and am "slowly" learning to play golf.

< At KARK you co-anchor the daily 5pm, 6pm and 10pm newscasts, is this your first time of being at the anchor desk for all the evening newscasts?

I have held about every position there is in a newsroom - producer, reporter, photographer, and anchor. This is my first time to anchor all three evening newscasts, although I still enjoy getting out in the community and reporting.

< You've been on the air for several months now, are you finding more and more people recognizes you when you're out shopping, eating out, etc.?

I don't think people necessarily recognize me - but they definitely recognize the name. Channel 4 did a great job in getting my name out in the community before I got here. I do get a lot of "you look a lot different in person than you do on-air." I think people don't expect me to be as tall as I am.

< So far what's your impression of "The Natural State"?

I am extremely happy with my decision to move to Arkansas. I have met the nicest people and thankfully everyone has welcomed me with open arms. Plus, I'm excited to live somewhere that actually has four seasons.