May Nielsen Book Shows Fox's 'News at Nine' on the Rise
Source: Arkansas Business.com The first wave of May television

ratings by Nielsen Media Research Inc. of New York has crossed the Outtakes desk, so we'll spend the next couple of weeks sorting out the movers and shakers among the categories and numbers.

Perhaps the most pleased of the four bigger networks' newscast teams is that of KLRT-TV, Channel 16, which has furthered its steady growth pattern every ratings period since its inception just more than a year ago, with the May book being no exception to that trend.

This time around is the first repeat ratings period for comparison now that Fox's "News at Nine" has been through an entire cycle. The May ratings period in 2004, which started just four weeks after KLRT hit the airwaves, showed the newscast with a household rating of 1.8 and a 3.2 share. This May the newscast broke out with a 4.4 rating and 7.8 share, showing that the station has strengthened its legs in drawing viewers to the earlier 9 p.m. time slot.

"In the industry, growing as fast as we have is atypical," said Chuck Spohn, general manager of the station. "It's a great vote of confidence for the product we're offering and the time period we selected."

Spohn pointed out that ratings with viewers age 25-54 — as seen across the five books recording KLRT figures — have shown an increase pattern of 0.9, 1.2, 1.5, 2.3 and 3.

Steady, indeed.



"You hesitate to put a cap on the numbers you'd like to hit," said Michael Fabac, news director at KLRT. "I think as long as we're showing growth and we continue providing our brand of news that is first, complete and local, then just how high you can reach is something we'd hate to limit at this point."

There's no doubt that a solid showing from some of Fox's improved programming aided KLRT's numbers, especially this time around with successful seasons of "American Idol" and "The OC" along with the new "House" and more reality-based shows.

"Having 'American Idol' two nights a week definitely did not hurt our viewership," Fabac said.

Spohn said that despite the talent show's success, it was the Thursday night newscasts that proved to be the station's best overall.

Other Numbers Analyzed

Although there's plenty of time in the next few weeks to analyze how the big three affiliates fared, we'll touch on the highlights this week while we're at it.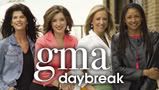 The new morning show by KATV-TV, Channel 7, was on the books this time around, and it'll be interesting to see if the station thinks it's the type of show that will take a few books to get on its feet or if the format is just not what morning viewers want to see.

Dale Nicholson, the station's general manager, and Randy Dixon, the news director, were out of town and could not be reached for comment last week.

"Daybreak" pulled a 5.8 rating and 22 share, second behind "Today's THV," which had an 8.3 rating and 31 share.

At 5 p.m. and 6 p.m., KATV is still very dominant, taking both slots with huge margins of a 12.7 rating and a 33 share and a 14.7 rating and 32 share, respectively. KARK-TV, Channel 4, came in second at 5 p.m. weekdays with a 6 rating and 15 share, while KTHV-TV, Channel 11, took second at 6 p.m. with a 7.9 rating and 17 share.



KTHV is hoping to better challenge KATV at 5 p.m. and 6 p.m. this fall when it moves a solid contender into the lead-in spot: "Ellen" will hit the airwaves at 4 p.m. Currently, "Oprah" on KATV draws an 11.2 rating and 38 share, blowing away KTHV's "Jane Pauley," which has a 1.9 rating and a 6 share.

"Ellen isn't going to take down Oprah or anything, but I think it'll definitely improve our chances at making some more headway with viewers at 5 p.m. and 6 p.m.," said Larry Audas, general manager at KTHV.

At 10 p.m., KATV slid while both KTHV and KARK gained in the ratings. KATV won the slot with an 8.5 rating and 22 share, while KTHV follows right behind with a 7 rating and 18 share. KARK had a solid showing, with a 6 rating and 15 share behind the anchor team of Jancey Sheats and Bob Clausen.



On a side note, Audas said to look for KTHV's new set, debuting "probably Thursday."It will feature more views and a window looking out into the station's Weather Garden.

Next week we'll have a complete chart of the May ratings, more analysis from the stations and a closer look at the book's trends.