Where Are They Now
Today we feature Matt Mosler.
Matt is perhaps best known as a television meteorologist, morning show host and award-winning reporter. For nearly 15 years Matt helped wake people up in such cities as Jackson, MS, Austin, TX and Little Rock, AR. In Little Rock, Matt helped make KATV's "Daybreak" the top-rated local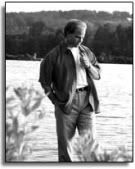 morning show in the country. Matt has flown with the Navy's Blue Angels, appeared on the Today show with Willard Scott, was one of the first reporters to interview John Grisham and won more than $8,000 in prizes as a contestant on the Wheel of Fortune. Matt is currently part of the "Morning Edition" at KLAZ radio in Hot Springs where he also serves as the stations staff meteorologist.
Whats's Matt doing now? Matt Mosler is the president of Beautiful Feet, Inc. a non-profit ministry intended to inspire, encourage and motivate the believer to want to be all God created them to be. Matt speaks and sings more than 150 times a year for churches, schools and civic groups. He has recorded two CD's, writes a syndicated column, has completed one book and is at work on another.