KHBS/KHOG Rogers Offices /Newsroom Opens Late September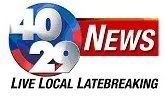 Source:

KHBS/KHOG Press Release

40/29 News expands their Live.Local.Latebreaking news and weather coverage capabilities by opening a new state of the art station facility in

Rogers

. The 12,906 square foot all-digital facility enables 40/29 News to play a larger role in covering the communities throughout the expanding

Northwest Arkansas

and

River

Valley

areas.
"This building expansion will make 40/29 News the only station in our area with three complete newsrooms in Fort Smith, Fayetteville and Rogers," said station President/General Manager, Jim Prestwood.
40/29 News will begin broadcasting from the new building at the end of September at The Peaks office complex in Rogers. The facility contains a state of the art studio, a digital control room and newsroom along with offices for sales, engineering and promotions.
"As long as we've been on the air," Prestwood said, "40/29 News has been committed to covering Northwest Arkansas and the River Valley. It is extremely important to us to continually upgrade our ability to cover news and weather to better serve our viewers. By upgrading our studios in Fort Smith, by building a new studio and station in Rogers and through our expanded news bureau in Fayetteville, 40/29 News now has the most modern and technologically advanced news gathering operation in the area."
40/29 News has also expanded our ability to cover severe weather in the area with the new expanded 40/29 SuperDoppler Weather Center. It's the most technologically advanced weather center in the area.
"This new digital facility gives our 40/29 SuperDoppler Storm Team of meteorologists the ability to use the most advanced weather technology to track storms throughout the viewing area and keep our viewers up to date with the most accurate and reliable forecasts" said News Director Mike Courington. "The new facility will give us a great new look but more importantly the 40/29 Weather Center will give our viewers faster and more accurate Live.Local.Latebreaking storm coverage."
To facilitate the move to the new building in
Rogers
, 40/29 News anchors and meteorologists are delivering newscasts from a temporary set in the
Fort Smith
newsroom. "The surroundings may look different right now," Courington said, "but viewers will notice a drastic improvement in
Fort Smith
and
Northwest Arkansas
when we debut the new facilities at the end of the month."


There will be a ribbon-cutting and open house at the new facility in Rogers on Thursday, September 27.
Coincidentally, the ABC affiliate was the first news station to broadcast in Northwest Arkansas and is now celebrating its 30th anniversary serving the area, including its 20th year with the distinctive call letters KHOG-TV.