Where Are They Now
Former KTBS newsman Doug Fernandez is in the spotlight.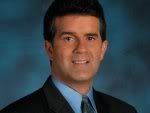 Doug has worked as a reporter and fill-in anchor at KCAL-TV in Los Angeles. Prior to this, he worked at stations in Shreveport, La.; Dallas; Fresno, Calif.; Anniston, Ala.; and Jackson, Tenn.

Doug graduated in 1983 with a degree in business from the University of San Diego.

What's Doug doing now? He is an anchor at KOAT in Albuquerque, NM.